3 zones far infrared body slimming sauna blanket
Classification

远红外线溶脂毯

Time

4/28/2017 2:05:36 AM
far infrared sauna thermal blanket for weightloss
The body wrap are separated from three part .(Above body, lower body and waist)This product makes these three parts of body to loss weight sperate.It can set up time and temperature.(25-80 Celsius degree)
Close range FIR with temperature control over the whole body, ideal and effective modern hi-tech system generally used in beauty salons , weight losing centers and even at home.
In modern society, people live in an environment of hard work, fast speed and great psychological pressure and they are always in a status of sub-health. Sharply aiming at these diseases caused by modern civilization, we developed this FIR home sauna blanket that is the first of it's kind in the whole world. It combines health care and slimming function without any negative effects on human body and therefore is the ideal Hi-Tech health care equipment for family purpose.
The sauna blanket uses intelligent control technology to maintain an even distribution of heat throughout the blanket and to warm the blanket from cold in a very short time. The sauna blanket has been carefully designed and manufactured to be completely safe for domestic use.
LAYING DOWN IS THE MOST BENEFICAL WAY TO SAUNA- Laying down is the most effective and comfortable way to take a sauna. Not only is it more relaxing but there are important physiological reasons why laying down is more therapeutic than sitting. Laying down in the blanket promotes distinct cardiovascular and neurological advantages. Laying down relieves the nervous system and cardiovascular system of the extra stress that is required to maintain an erect posture. Gravity places a burden on the system which is why the rest and repair of sleep is naturally laying down. The cardiovascular system is relieved from postural demands in the a laying down position. Under the heat stress which is common in a sauna the regulation of internal body responses toward self healing is maximized with the greatest degree of relaxation. Keeping the head outside and cool while laying down is the optimal way to get the most benefits with the least discomfort.

Specification
Item Name and Mode

3 zone sauna blanket S-103

Materiral

Anti-water PVC inner, PU outer

Time Setting

5-60Minutes

Temp Setting

25-80 Celsius degree

Features

3 heating zones for upper, waist and lower body respectively

EMC,EMF and LVD approved

Special heating pad for focus heat

Velcro for easily lay in and out

Spiral interface of the controller box make safer and more relible

Four overheating protection devices in blanket, two in controller box to keep the safety

Heating Wire

Carbon fiber giving out FIR

Service

Warranty is one year

Accept OEM

Packaging

63*33*29cm
Components and Materials
Functions and Features
• Advanced thermal heating system with integrated carbon fibre technology, producing FIR at the most beneficial frequencies to human health
• 360 degree full body coverage
• Precise digital control for time and temperature of session. Simple to operate
• Automatic switch off of heat at the end of session
• Convenient to use and store
• Four overheating protection devices in blanket, and two in controller box to keep the safety
• Safe to use. CE certified apparatus
• Comfortable, relaxing experience
• Ideal for spa use or home use.

Product show
Relaxing and body shaping
360 degree full body coverage
Portable Slimming Blanket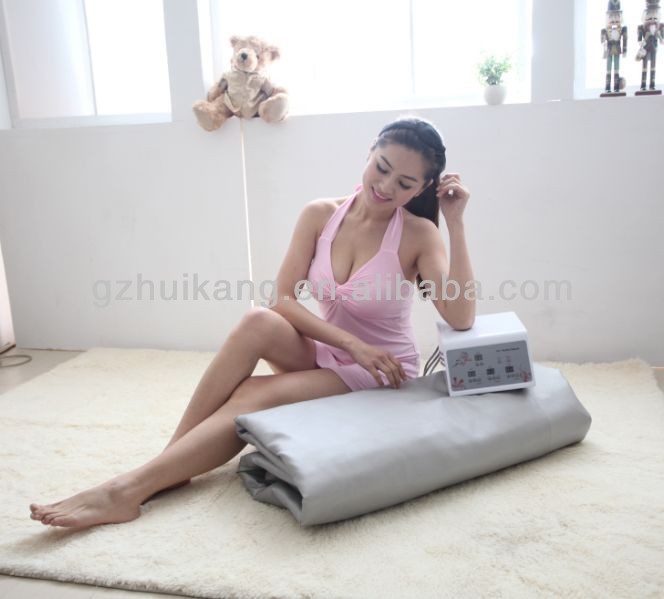 Infrared sauna blanket
Ultra-portable infrared sauna blanket suitable for health and beauty purpose for professional or leisure use. Excellent for detox, weightloss, or general health and relaxation.
Far infrared ray is often referred to as the light of life for its importance in growth and nature. Around 81% of the suns rays fall within this spectrum of light. Far infrared heat is renowned for its energizing and deeply penetrative powers. The far infrared rays have deeper penetrative powers than other heat sources achieving 4-5cm depths within the body in a short time. When using the sauna blanket the head/brain is not heated. This allows sweating without overheating the bodies' core temperature.
Certification